What's the best way to learn Spanish? Go to Spain of course. Then take one of the many Spanish Courses in Spain that are available to really boost your language skills.
Let's start with the "why".
Why should you take Spanish courses in Spain?
Let's spell it out:
Experience a new culture while learning Spanish
Practice your language skills every single day of your stay
Learn colloquial terms that you might not pick up in the classroom
Learn from Spanish teachers – they know their language best!
Spanish can help you learn other Romance languages much easier
Improving your Spanish will improve your confidence
Travel in Spain with ease ­­– no need to rely on that phrasebook
Make new friends or professional connections
Now we've convinced you that taking Spanish courses in Spain is THE best way to get fluent in Spanish, let's show you the courses on offer.
You can find more information about the institutions listed below on our language schools page.
Cervantes Accredited Spanish Courses in Spain
The Cervantes Institute was founded in 1991 to promote and provide accreditation for studying the Spanish language or Hispanic culture.
It is a sound marker of the quality of the course or the school you've enrolled on if it's an "Instituto Cervantes" center.
With that in mind, here are some great courses that fall under the Cervantes Institutes banner.
The courses below are only meant as a taster of what Spain has to offer and are based on Spain's most popular destinations for international students:
Take a Spanish Course in Madrid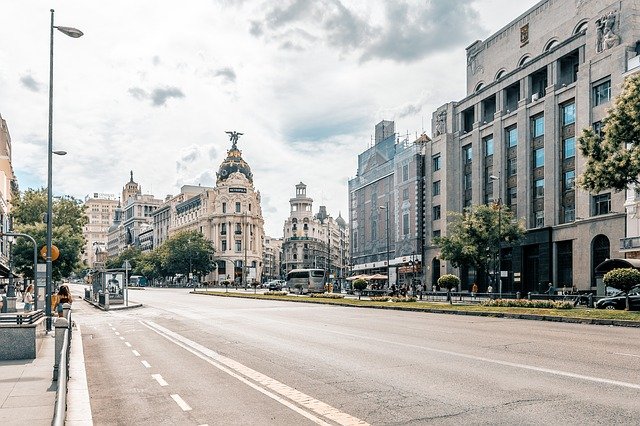 AIL Madrid
The AIL Madrid language school regularly beats all the others in student satisfaction polls. And not just other schools in Madrid but all the schools in Spain.
If you're looking for Spanish courses in Spain, AIL may be the most popular. It just so happens it's based in Madrid.
They seem an excitable bunch at AIL as you may see from their website. But happy staff make for happy students and the courses AIL Madrid provide are varied and interesting.
Let's look at a selection of what they offer to get you started:
| | |
| --- | --- |
|  Course Type   | Cost |
| Total Immersion Course  | 290 € per week |
| Premium Course   | 340 € per week |
| Intensive Spanish Course | 190 € per week |
| Semi-intensive Spanish Course | 120 € per week |
| Evening Spanish Course | 105 € for 4 weeks |
| Weekend Spanish Course  | 270 € for 12 weeks |
One thing we love about AIL is its dedication to providing a variety of different experiences. It makes taking Spanish courses in Spain more "real".
What's not to love about combining your love of language learning with your love of dance? AIL Madrid has a Spanish Course and Dance Classes!
Love food? AIL Madrid can offer you a Spanish and Cooking Program.
Or you may be a fan of art. AIL has a Spanish Course and Art Classes just for you, too.
We could go on but, honestly, AIL Madrid have a course for literally every type of Spanish learning you could want. No wonder they are so popular!
LAE Madrid
La Aventura Española has a name that is inspirational. What could be a better way of promoting language learning than calling it an adventure?
What's more, this school offers a range of different classes in the Spanish capital (or online) that are some of the most flexible we've seen.
For face-to-face tuition they have:
| | |
| --- | --- |
| Course Type | Cost per week |
| Intensive Spanish Course | from 195€ |
| Power Intensive Course | from 265 € |
| Sprint Intensive Course | from 1360 € |
| Semi-Intensive Course | from 105 € |
| Evening Spanish Course | 115 € |
| Friday Spanish Course | 115 € |
They also have a range of one-to-one and VIP courses as well as tailored courses to fit all your needs.
If you need to learn Spanish for business, for working with kids, or for au-pairing they have you covered.
With such a huge range of course options and flexibility, you really have no excuse to put off learning Spanish!
Spanish Courses in Barcelona

Expanish Barcelona
Expanish Barcelona is a well-established language school in Barcelona. And if you're looking for Spanish courses in Spain, Barcelona is a popular destination.
We love Expanish school system in Barcelona, they're the only Spanish language school in Spain which two campuses organized by ages.
One of them is for all the students over 30 years old and the other one for under 30 years old students. This creates the perfect environment for every student's age range.
Another great thing is that all of Expanish's teachers are native speakers so you'll be learning the most authentic Spanish available.
Let's look at the school's courses and costs:
| | |
| --- | --- |
| Course Type | Cost |
| Intensive Course | from 146 € per week |
| Super Intensive Course | from 218 € per week |
| DELE Course | 333 € per week |
| SIELE Course  | 333 € per week |
| Private Course | 35 € per lesson |
| Combined Course | 50 € per week |
| Evening Course | from 321 € per week |
Expanish also offers online classes and longer-term courses which include a University Pathway Program.
For students intending to continue their studies into further education in Spain, this is a language school that will be a great fit for you.
Olé Languages School
Olé Languages School in Barcelona provides professional, reputable, and cost-effective Cervantes Institute's accredited courses.
They are centrally located in one of the world's most beautiful cities. And unlike some of the larger schools in Spain, Olé's appeal is their focus on the individual.
Because classes are purposely kept smaller (no more than 9), you get a more personalized Spanish language learning experience.
The school prides itself on offering the best price-to-quality ratio which is an added bonus.
Let's look at some of those courses and costs:
| | |
| --- | --- |
| Course Type | Cost |
| Intensive Spanish Course | 150€ per week |
| Semi-intensive Spanish Course  | 86€ per week |
| Evening Course | 135 € per month |
| Long-term Spanish Course | from 2664 € for 27 weeks |
They also offer 1-2-1 lessons, conversation classes, and cultural lessons. They also run a popular D.E.L.E preparation course (official certificate of Spanish as a foreign language).
Olé's course variety may not be as extensive as the other courses we mentioned, but they put prioritize quality over quantity.
And at those prices, you really would be getting a great deal.
Spanish Courses in Valencia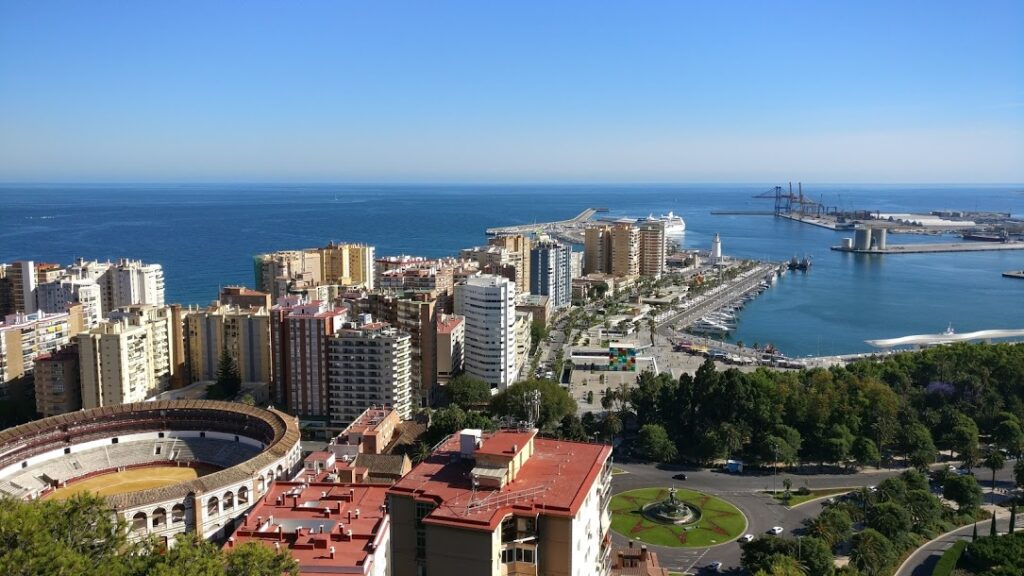 Valencia is a popular choice for international students when it comes to finding Spanish courses in Spain.
Why?
Because it's known to be beautiful and historic.
Yes, but isn't the whole of Spain beautiful and historic, you ask? We hear you, but many people think Valencia has something "extra" – it might be the coastline.
Taronja School
If a Spanish course in Valencia sounds good, Taronja School is a popular choice.
The school offers a mix of lessons and they supplement teaching with social and cultural aspects of Spanish culture.
Taronja not only make learning fun, but they seem to make it as immersive as possible. That can only be a good thing for embedding those language skills!
But let's take a peep at their shorter course details:
| | |
| --- | --- |
| Course Type | Cost |
| Intensive Spanish Course   | 218 € per week |
| Spanish Intensive Course + Conversation  | 258 € per week |
| Intensive Course + Private Lessons | 398 € per week |
| Spanish for School Groups                             | by quotation |
Taronja School offers a similar range of longer-form courses, too. And you can mix and match different courses to suit your needs.
AIP Language Institute
AIP Language school caters for a range of ages including those under 18, unlike many of the language schools mentioned.
Their intake is largely from the ages of 18-40. But learning never stops and they also have students who are 40+.
And the company's courses are a mix of preparation for continued education or simply for conversation.
Let's look at what they have to offer:
| | |
| --- | --- |
| Course | Costs from |
| Intensive Course | 138 € per week |
| Intensive DELE Preparation | 186 € per week |
| Super Intensive + DELE/SIELE | 224 € per week |
| Conversation | 54 € for 3 lessons |
If time is short, you can take AIP's one-day course.
And if you are younger or have kids that want to take Spanish courses in Spain, AIP offers summer schools for teenagers.
AIP's website states you can enjoy learning where the "days are sunny and you can enjoy the beach all year round".
Could they make taking Spanish Courses in Spain sound any better?
Exchange Programmes with Spanish Courses in Spain

Younger or Undergraduate Exchange Students
You can attend Spanish courses in Spain as part of an exchange program. There are literally hundreds of programs run by Spanish or international groups.
Lingoo is an established international company that organizes exchange programs for studying abroad. They cater for single people aged 18-30.
Other companies such as Myhospitality.com cater for younger learners during the summer vacation.
However, most public or private Universities offer an exchange program to undergraduate international students.
A few of these, as an example, are the Universidad Nebrija and the Catholic University of Murcia.
Erasmus Students
If you haven't heard of the Erasmus program and you're an EU citizen, it's something you should consider.
The program is run by the European Union to support students from European countries who want to exchange their studies from one EU country to another.
Many students from Europe can take Spanish courses in Spain while studying their main course.
They can take a Spanish course to support their learning while at University or in preparation for their course.
The University of Salamanca offers courses specifically designed for Erasmus students. As does the University of Córdoba and the University of Granada.
In fact, all Universities will offer their Erasmus students a Spanish language learning program.
There are even courses run by private institutions designed for Erasmus students. This one from Happy Erasmus is merely one of many.
Take Online Spanish Courses In Spain
Spanish Courses From Spanish Educational Establishments
This may sound weird, but you may not have the time to physically attend a Spanish class even when you're in Spain.
You may have a job or you may be traveling around the country while you learn. This is where online courses are great.
Also, they can fit around your job or your travel plans and you can practice what you learn during your lesson by just stepping outside your door.
If you want to make sure you're learning from native speakers and getting Spanish or EU accreditation, almost all of the universities and schools mentioned above have online programs.
And we would recommend following the links provided (above) to those schools to find out more.
Top rated online international programs
Babbel offers a tailored program to suit not only why you want to learn Spanish but how you prefer to study.
They have a self-study app, live classes or a mix, and Babbel also categorizes you by age.
Payment is anything from $14 per month+ on a monthly subscription.
Mondly and Rosetta Stone are also well-thought-of and cost from $12 per month and $18 dollars a month respectively.
Of course, these last three online courses are not technically in Spain but are still useful choices to consider wherever you are.
But if you want our advice? If you're in Spain, look for an online course that runs from a Spanish school or institute.
Why? Because if you're in the neighborhood you can always pop in and say, "Hola!"
We're sure you found inspiration to help you find Spanish courses in Spain. Now it's over to you to compare the types of courses and the dates they run.
And with so many choices, you're sure to find Spanish courses in Spain that fits your schedule.
If you'd like to learn more about learning Spanish from scratch you'll find a great article here.
And if you need more information about housing in Spain while you study, check out our article for good advice.