Spain is well-known worldwide for its delicious cuisine and traditional food culture. Naturally, while you're going to be doing so much good eating, you'll need some nice drinks to go along with your food, too! Our team of Spain insiders here at Go! Go! España is going to teach you how to make a sangria.
The great thing about recipes is that you can take them home with you to share with your friends and family. Not everyone will be able to come visit you while you're overseas, so why not take a little piece of Spain to them?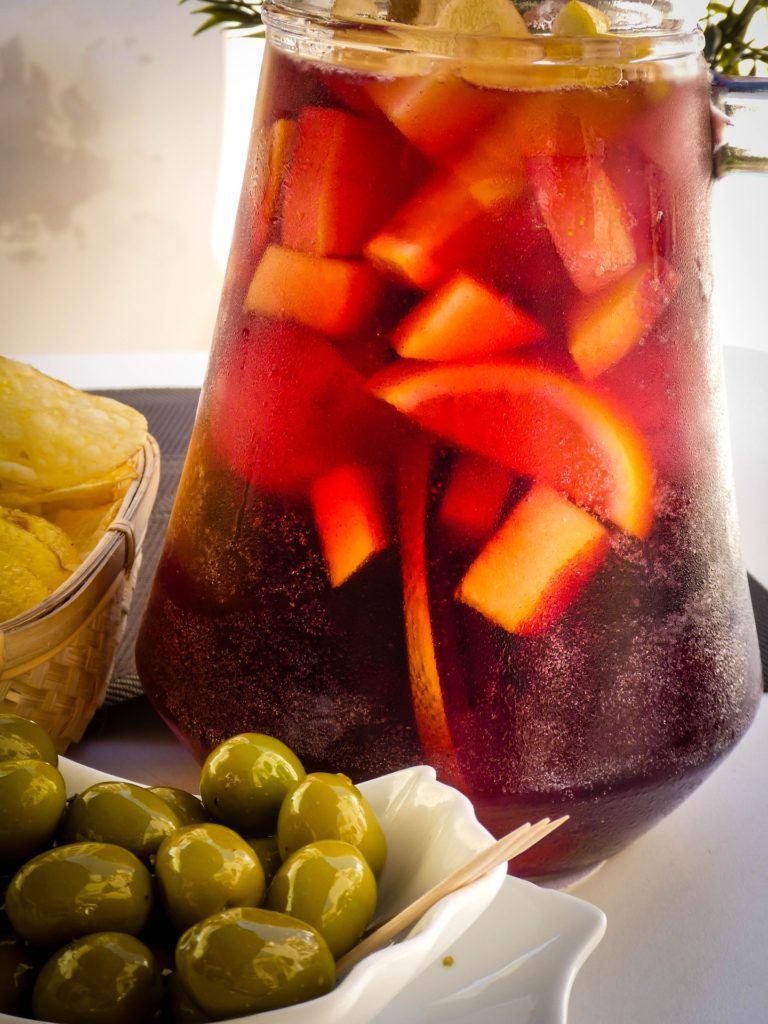 How to make a sangria: Getting started
Sangria, like tapas and paella, is best enjoyed when shared. Why not invite a few people over and make a big batch? It's not difficult to make, but it is an impressive drink. It's perfect for a special occasion or celebration.
You'll want to find a large glass jug to hold your sangria. It's common to put a wooden spoon inside the jug, too, to help you scoop up all the delicious pieces of fruit out of the bottom. You may also want ice to keep your drink nice and cool.
Sangria can be made using any kind of wine. You can even find versions made with cava or champagne, too! Pick whichever type you like the best. But, we're going to start with the most common version – red wine sangria.
How to make a sangria: The ingredients
1 liter of red wine (try a fairly dry wine, as you'll be adding plenty of sweet stuff to it)
½ liter of orange juice (you can also use lemon or orange soda, like Fanta or Sprite)
1 lemon peel
1 orange peel
1 cinnamon stick
1 peach or pear
1 apple
Sugar to taste (start with about 2 tablespoons, and add up to 4 tablespoons)
Ice
Optional: You can also add a dash of sweet wine (like moscatel) or brandy if you like.
How to make a sangria: The method
For those of you who aren't the most confident cooks, don't worry! Making sangria is really easy.
Start by chopping your fruit into small cubes. You can also peel it if you like (though this is a matter of personal taste).
Next, get a large pot. Add all your fruit to it, plus the wine, the orange juice, the cinnamon, and the lemon and orange peels.
Add a bit of sugar, tasting as you go until you like the taste. If you're using brandy or sweet wine, add it in here too. Mix well.
Let your sangria sit for a couple of hours to soak up all the flavors. When you're ready to serve it, pour it into a large glass jug over a generous amount of ice.
Tips for making sangria
Drink up slowly! Sangria is lovely and sweet, but can pack a serious punch – especially if you add extra alcohol. Enjoy at a reasonable pace.
You can make sangria with white wine, rose wine, or even sparkling wine (or cava or champagne). Once you've got the basic recipe mastered, try playing around with different ingredients to see how you like it.
You can also mix up the fruit that you put in sangria. Some people prefer it with a stronger citrus flavor, and add slices of lemon or orange to the mixture as well as the fruit peel. You can also try berries or melon for a twist.
Don't forget to say "Salud" as you clink glasses!