When you think of Spanish food, what do you think of? Chances are paella is high on your list! This delicious rice dish comes from the Valencia area. Today, it's a firm favorite for visitors and locals alike to the country. We're going to teach you how to cook a paella the traditional way.
You should definitely try a paella while you're in Spain (it's one of our picks for the best Spanish food, after all!). But even better than just trying one while you're here is learning the recipe yourself. That way, you can take it home with you to impress your friends and family anytime you like. What could be a better souvenir than that?
Are you ready to get started? Let's learn how to cook a paella the authentic way.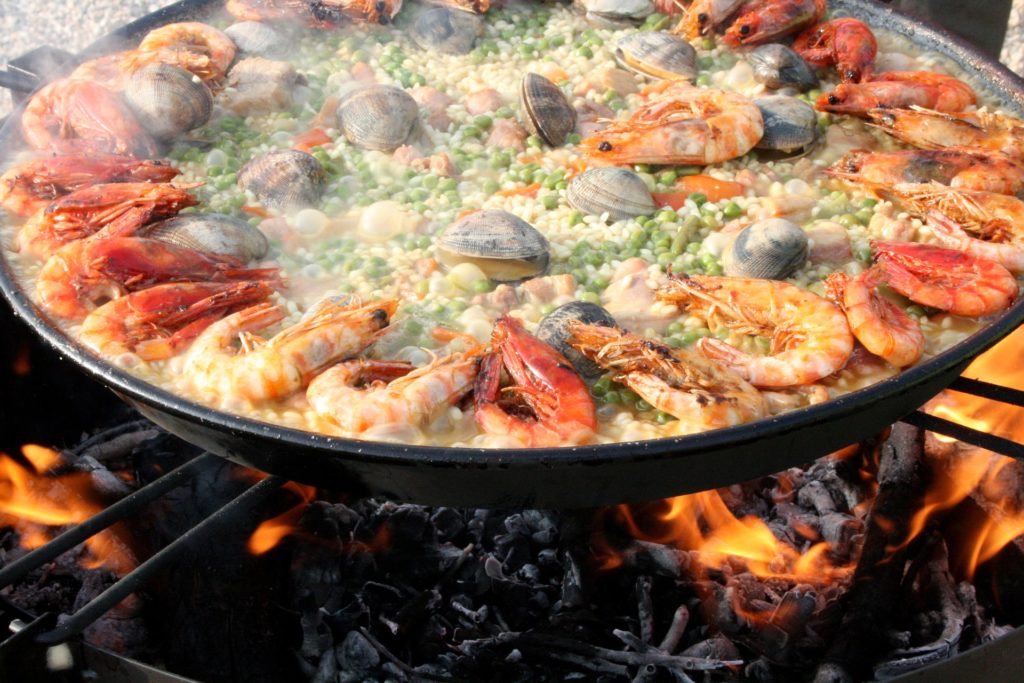 How to cook a paella: Getting started
The first thing you'll need to do is round up a big group of people to feed! One of the reasons paella is such a great food is that it's perfect for sharing. So, find someone to share this delicious meal with.
You'll also ideally need a paella pan, which is a shallow, flat pan. If you don't have one, you can make do with a large skillet.
Now, it's time to decide what kind of paella you want to make. The traditional Valencian paella includes chicken, rabbit, and snails. There are also other versions, including seafood paella, mixed paella (with both fish and meat), and even vegetarian paella.
We're going to choose the traditional Valencian paella.
How to cook a paella: The ingredients
Are you ready to go shopping? Here's everything you'll need for a paella for about 4 people:
Rabbit – 500 grams/17.6 ounces
Chicken – 500 grams/17.6 ounces
Tomato – 1, make sure it's ripe
Green beans – 200 grams/7 ounces
Lima beans – 200 grams/7 ounces
Bomba rice – 500 grams/17.6 ounces
Chicken stock – 1.5 liters/6 cups
Paprika – 5 grams/1 teaspoon
Rosemary – 1 sprig fresh
Saffron – 1 gram/0.2 teaspoon
Salt
Olive oil
Optional: Snails (about 10, and they should already be boiled)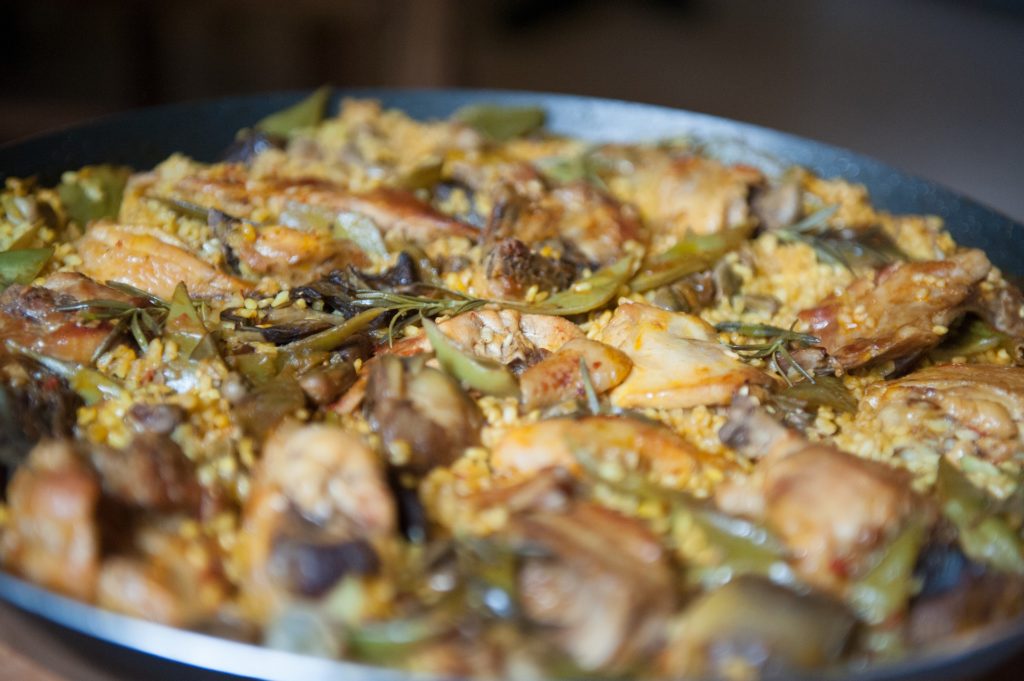 How to cook a paella: The method
Heat the olive oil in a paella and add salt. While it's warming up, season your meat.
Sauté the meat on medium heat for about 20 minutes.
Add in your vegetables and cook them for about 5 minutes or until they're soft. Then, add the paprika.
Add the water, saffron, and rosemary. If you're using snails, add them too. Bring to a boil. Cook until the liquid has reduced by half.
Keep an eye on the rosemary – once it starts to fall apart, you'll want to remove it.
Add in the rice. Turn down the heat and simmer until you can't see the liquid. Taste as you go.
When your rice is cooked, take it off the heat, cover it with a towel, and let it stand for 5 minutes. Then, tuck in! Traditionally, paella is eaten straight from the pan.
Once you've gotten the hang of this paella, you can also try making other variations, like seafood and mixed paellas.
Tips for how to cook a paella
Traditionally, paella is never stirred! This means the rice sticks to the pan and creates a lovely crispy layer called "socarrat".
Paella is eaten at lunchtime, and often with a wooden spoon.
You can also use senia rice.
To get a delicious smoky flavor, you can cook the paella over a wood fire.
If you're a garlic lover, try making fideuà, a similar dish made with short, thin noodles instead of rice and served with garlicky aioli sauce.
You can serve lemon wedges with paella, but only add the lemon after tasting the dish first!