For students of the Spanish language, there are no shortage of excellent schools where you can sharpen up your skills. But even in a strong pack of contenders, some schools stand head and shoulders above the rest. Our team has personally visited a whole lot of language schools, so we know how to spot a good school when we see one. We've hand-picked the very best Spanish language schools in Spain so you can be assured that you're getting excellent instruction. In no time at all, you'll be speaking Spanish like a native!
Don't forget, we also have further resources for you to polish your Spanish, including an introduction to the Cervantes Institute and everything you need to know about the DELE exam.
Best Spanish language schools in Spain
List updated in 2021 here.

#6 Inhispania (Madrid)
Located in the heart of Madrid, Inhispania offers top-notch instruction to over 1,200 students every single year. Not only is its enviable location an excellent starting point for exploring the Spanish capital, but it also has large, modern facilities and excellent classes. If you're serious about mastering the Spanish language, you'll feel right at home with this school's high-intensity classes.
All levels of Spanish speakers are accepted here, from beginners to advanced speakers. You can choose from morning or afternoon classes, depending on what best suits your schedule.
#5 BCN  Lip (Barcelona)
Founded in 2008, BCN Lip's approach is all about getting you speaking as soon as possible, so you can start using Spanish in your everyday life pretty much instantly. They also help you work on essentials like grammar and vocabulary, so you'll manage to improve a range of skills at the same time. Plus, they add in lots of fun activities to their language classes, which include tours, trips, cooking sessions, and more.
This school's classes are of medium intensity, so while you'll need to keep up to speed with some studying, you'll also have lots of time to explore the Catalan capital. This school is accredited by the Cervantes Institute, an excellent seal of approval.
#4 Giralda Center (Sevilla)
Why not head to the heart of Andalusia to learn Spanish? There are few Spanish cities as charming as Sevilla, making it a great place to study and travel. The Giralda Center is the oldest Spanish language school in the city, so you'll be in very experienced hands here. Students hail from all over the world to study in its beautiful location.
The medium-paced school helps you brush up on your language skills quickly while still having lots of free time available to enjoy exploring. Don't forget to use some of that free time to check out the school's rooftop terrace!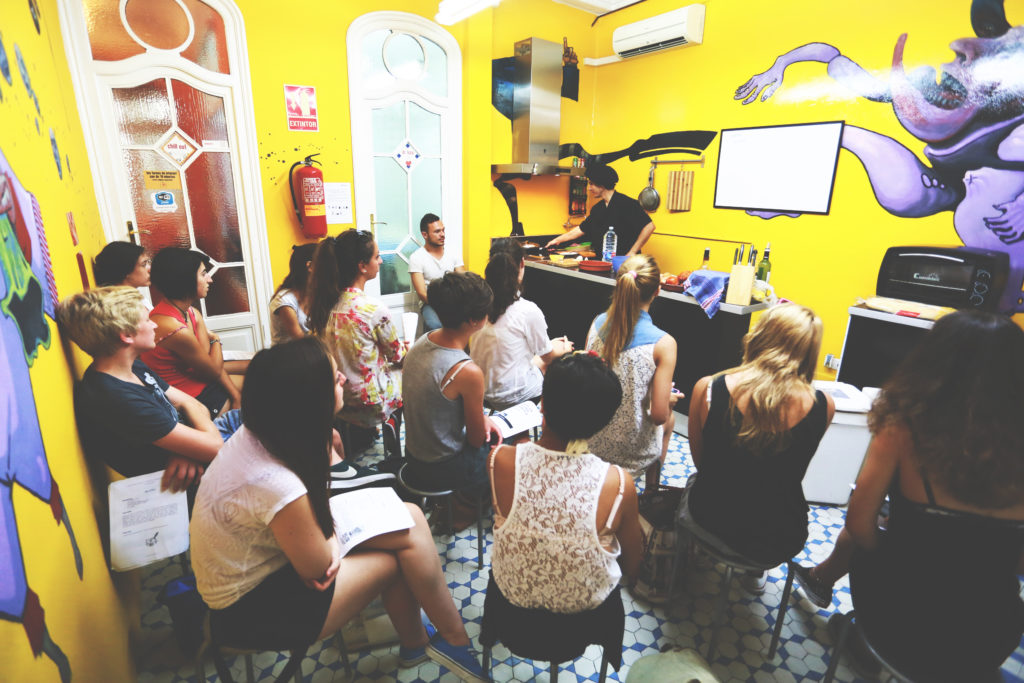 #3 Isla (Salamanca)
Salamanca is famous for being one of the best places in Spain to learn Spanish, and Isla is one of the best Spanish language schools in Spain. Located in the middle of the old city center, you'll get a taste of the local lifestyle as you take classes here. This is a fairly intense program, so you'll want to put in some study time to make sure you get the most out of your time in Salamanca. But don't worry, you'll still have time to enjoy the city!
P.S. This school has won awards for being one of the best Spanish language schools in Spain!
#2 Hispania Escuela de Español, Taronja, and Españolé International House (Valencia)
These three schools are all found in sunny Valencia. Apart from that, they also share in common that they're excellent places to learn Spanish in Spain. Which one should you pick? That depends on what you're looking to get out of your language learning experience! The Hispania Escuela de Español offers a lot of flexibility and free time, while Taronja is perfect for people looking to socialize while they learn, and Españolé International House offers you university credits.
The choice is up to – at any of these three you'll get an excellent education!
#1 Malaca Instituto (Málaga)
For another option in the south of Spain, try Málaga. The Malaca Instituto is one of the best Spanish language schools in Málaga, and as an added bonus has an amazing campus to explore. This award-winning school places equal importance on communication and grammar, so it'll help you speak fluently and correctly.
The campus includes a swimming pool, a gym, 3 terraces, a restaurant, and more! You may never want to leave.