Is finding accommodation in Madrid on the top of your to-do list?
Before moving to the Spanish capital, having a guide handy can make the process less stressful!
Finding flats to rent in Madrid without knowing how the rental system works can be challenging.
Not to mention, navigating the process in a new language adds another layer of complexity.
That's why we've put together a guide on how to find accommodation and rent a house in Madrid.
Our accommodation guide includes popular online rental websites, a few common rental terms, and more to help you navigate Madrid real estate.
Before you know it, you'll be well on your way toward moving in to your new home in the bustling metropolis of Madrid.
How to Find Accommodation in Madrid
Are you looking for something with a reasonable rent price?
Maybe you'd prefer a flat located in a specific neighborhood or housing closer to public transportation?
Before you begin your search, it's important to hone in on what you want out of your living space.
Things like budget, location, and the type of house are a few of the basics that you may want to include in your search.
Whether you're looking to rent a room, or share an entire flat with roommates, your next step is to begin your search!
Today, websites or apps are both common ways to find rental properties in Madrid.
There are many online accommodation websites to utilize when searching for your next home.
Here's our suggested list of a few widely used options.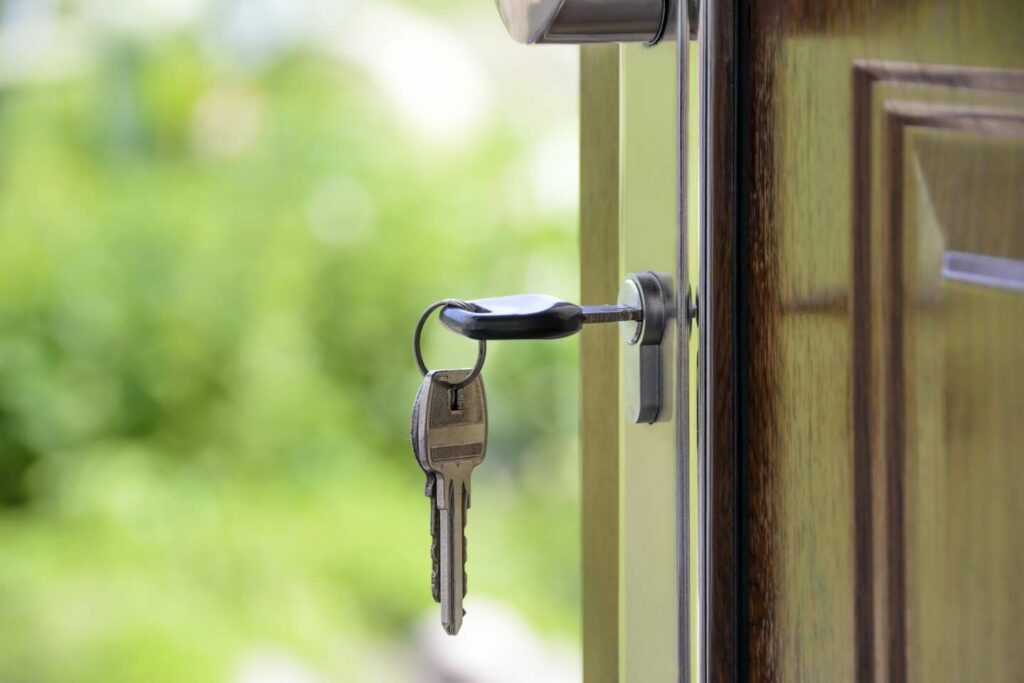 Best Websites to Find Accommodation in Madrid
Last but not least on our list is the rental website Flatio.
Flatio is great for students as they offer short-term, furnished rentals.
You can browse through their listings of rated apartments or even take a virtual tour.
Flatio works directly with the apartment owners and the renting process can be completed entirely online!
With upfront pricing, no deposits, and utilities included, Flatio rentals are a great option.
From one-bedroom apartments to luxury studios, Flatio offers tenants a wide variety of living options to choose from.
Overall, this company provides students and travelers alike with a stress-free rental experience.
Idealista is a rental website commonly used by those searching for Madrid houses for rent.
This website allows those searching for accommodation to comb through a wide variety of search types.
You can search by rental type and even draw a map around the area you're interested in for a more visual search.
Idealista has a wide database of accommodation options to search through.
Most of the listing on this website are in Spanish.
However, the website is straightforward and easy to use.
Simply type in your search criteria and browse through the many options presented to you.
Fotocasa is another widely used rental website.
With over 1 million properties to browse through, Fotocasa provides a wide variety of accommodation options for prospective tenants.
This website allows for a seamless search experience.
Simply type in your type of rental, desired area, and you're ready to browse!
Similar to Idealista, many of the listings on Fotocasa are in Spanish.
This online rental website lists thousands of properties for prospective tenants to browse.
They also have a handy search option that allows renters to search by long-term or monthly rentals.
You can set a max price, enter the neighborhood, choose your desired number of bedrooms, and get to browsing!
For monthly rentals, Enalquiler also offers renters the option to book appointments online.
This rental website offers renters an option to rent rooms in fully furnished homes.
As each location does come fully furnished, monthly rent amounts will generally be higher.
The website allows you to search by room size, what type of bills are included, and various amenities.
Search through single size rooms, doubles, suites, or entire apartments!
Renters can even choose monthly plans that allow for regular cleaning, linen changes, and more.
Habitaclia has properties throughout Spain for both renters and buyers.
For those looking to rent, this online real estate website has hundreds of rentals to choose from.
Search by price, area of town, and property type.
If you're hoping for extra amenities such as a pool or terrace, you can add these characteristics to your search.
Good Places to Stay in Madrid
Madrid is a sprawling city, made up of 131 different neighborhoods.
Doing some research on which neighborhoods you might want to stay in is a crucial part of your time in Madrid.
While there is an endless amount of incredible neighborhoods to choose from, the best places to stay in Madrid will depend on your personal preferences.
If you're not exactly sure what area you want to be in, here are a few popular neighborhoods in Madrid:
La Latina is filled with fine cuisine and historic architecture
Lavapies is filled with diverse cuisine and artsy nightlife
Sol is the city-center with bustling shopping and transportation
Huertas is five minutes from Sol and has plenty of bars, restaurants, and museums
Chueca is known for its nightlife, outdoor terraces, and gourmet food
Retiro borders the city park and is more of a residential neighborhood
From the bustling-city center of Sol to the quieter residential neighborhood of Retiro, there's truly something for everyone in Madrid.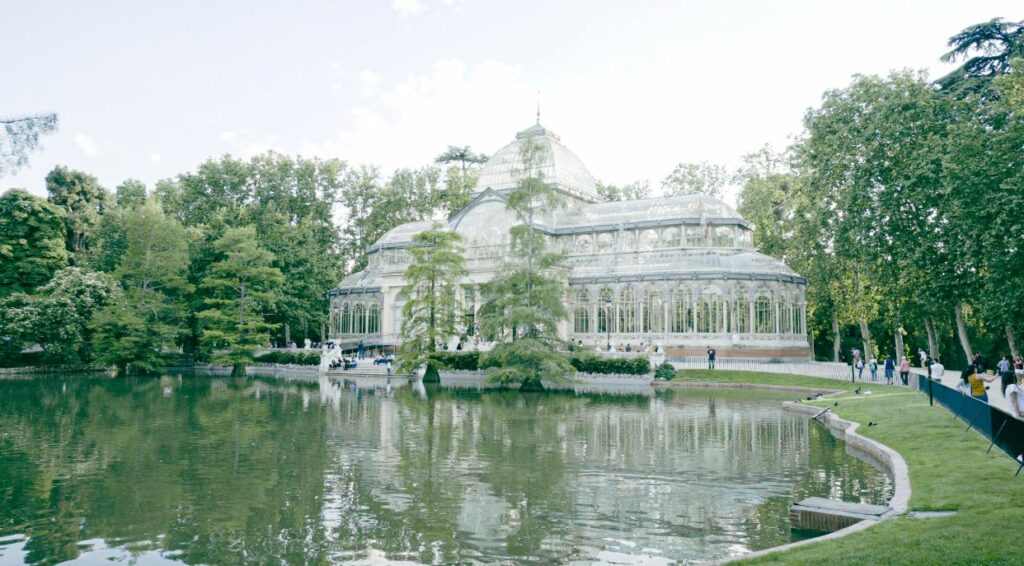 Madrid Housing Search Tips
Whether you're looking for a room, a shared house, or a home, we wanted to include a few extra tips to help make the process easier.
Some common Spanish vocabulary terms that can help you during your search:
Rent: alquiler
Flat: piso
Room: habitación
Townhouse: casa adosada
Neighborhood: barrio
Bills: gastos
Elevator: ascensor
Flatmate: compañero de piso
Short-term rental contracts are known as contratos de arrendamiento de temporada.
Long-term rental contracts are known as contratos de arriendo de Vivienda.
Another tip to keep in mind during your search?
The easiest way to get in touch with potential landlords is by phone!
Emailing is often not as efficient.
Calling or messaging for appointments and information can help get the ball rolling faster.
Having a Spanish phone number can help expedite the process!
A Spanish SIM card can help with this.
Another helpful note to keep in mind is that you'll need documentation when applying to rent in Spain.
Documents may vary depending on who you rent from, but some common documents might include:
Passport copy
Proof of funds
Employment contract
Tax ID number (NIE)
Your NIE will be your número de identidad de extranjero or foreigner's ID.
How to find Accomodation in Madrid with Go! Go! España's help
Madrid is a city made up of over 3 million residents.
With its rich history, bustling nightlife, and a laid-back work culture, it's no secret why so many people flock to this dynamic city.
Navigating the process for finding homes in Madrid Spain in another language might seem daunting, but we're here to help!
Finding the right accommodation simply comes down to preparation.
If you feel overwhelmed looking at all of the best places to stay in Madrid, look no further.
You can always refer to this accommodation guide for help with the process.
In addition, don't hesitate to use Go! Go! Espana's accommodation finder.
We want to help make the process of finding a home in Spain as straightforward as possible.
We work closely with various Spanish partners to find the right housing fit for you.
Simply provide us with some information on your accommodation preferences.
From there, we'll put in the leg work to find you a home that fits your needs and preferences.
With Go! Go! España's help, you'll have the keys to your next place in no time.
Not to mention, while we search for the perfect place for you, you'll have extra free time to explore everything that awaits you upon your arrival in Madrid.