There's certainly no shortage of things to do in Madrid.
The capital city is filled with world-class museums, sprawling parks, stunning architecture, and a complex food scene.
Prefer to browse through any of the more than 40 museums in Madrid?
Perhaps you're looking to go on a culinary tour of any of the thousands of restaurants in the city?
With so many things to see and do, planning an itinerary for Madrid can be exciting and overwhelming all at the same time.
Whether you're heading to Madrid for the first time, or you're coming back as a seasoned traveler, our list of the 9 best things to do in Madrid, Spain has something for everyone.
Best Things to Do in Madrid
Since Madrid is home to so many of the world's best museums, we're starting off our list of Madrid attractions.
1.   Museo del Prado
First on our Madrid sightseeing list is the Museo del Prado.
This world-class museum is said to have one of the most extensive art collections in the world and is considered one of Madrid's most important landmarks.
Opened in 1819, the now-named Museo del Prado currently houses over 20,000 works of art!
Because of its extensive collection, it's easy to spend hours roaming the halls of this museum and the masterpieces housed within it.
From collections focusing on the Spanish monarchy to works by Francisco Goya, the museum is filled with can't-miss pieces from multiple periods throughout history.
There's a reason this museum is one of Madrid's most visited attractions and why we're including it in our list of things to do in Madrid.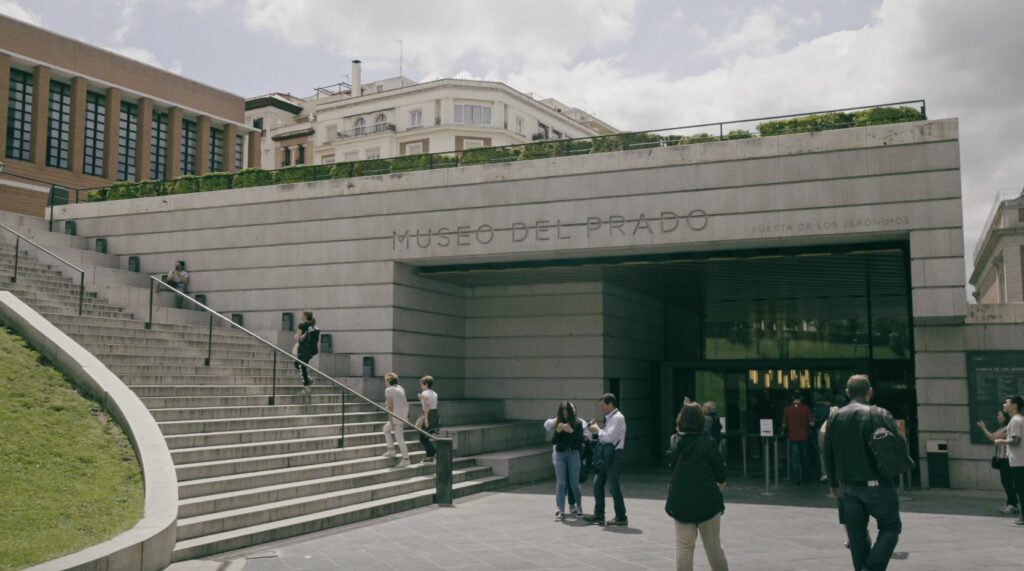 2.   Royal Palace of Madrid
The official residence of the Spanish monarchy, the Palacio Real (royal palace) is also open to the public.
Each year, nearly 2 million people visit this palace that has played host to centuries of Spanish history.
One of the largest palaces in the world, it is comprised of thousands of different rooms, historic gardens, and stunning artwork.
One of the more popular Madrid tourist attractions, the lines to get in can be quite long.
Planning ahead with a guided tour, or priority access to specific parts of the palace, isn't a bad idea.
Another bonus while visiting this historic building are the views from the terrace.
Admire the the surrounding countryside of Madrid after exploring the grand palace and its many rooms.
3.   El Rastro Flea Market
Taking it down a notch from grand palaces, let's hop over to El Rastro flea market.
This historic open-air market (mercado al aire libre) stretches across multiple streets in the La Latina neighborhood of Madrid.
There's a reason El Rastro is the most famous street market in Madrid.
With hundreds of open-air stalls to choose from, you can pick up a few souvenirs, memorabilia, or antiques from just about any vendor you can imagine.
The market opens at 9:00 a.m., so be sure to get there early to beat the crowds before it gets too busy.
After a few hours of perusing the eclectic mix of goods, stop by one of the many nearby tapas bars for a bite and a drink.
4.   Mercado de San Miguel
If you're in the mood to peruse gourmet food stalls, head over to Mercado de San Miguel (San Miguel Market) for a huge selection of products from all different parts of Spain.
From Michelin Star ice creams to Cantabrian cheeses, this market has it all and is truly one of the most accessible places to visit in Madrid for a gastronomic tour of Spanish cuisine.
Originally opened around 1916, visitors to this market have the opportunity to experience food from all corners of Spain.
One of the oldest markets in Spain, this is a must visit for food lovers and casual diners alike.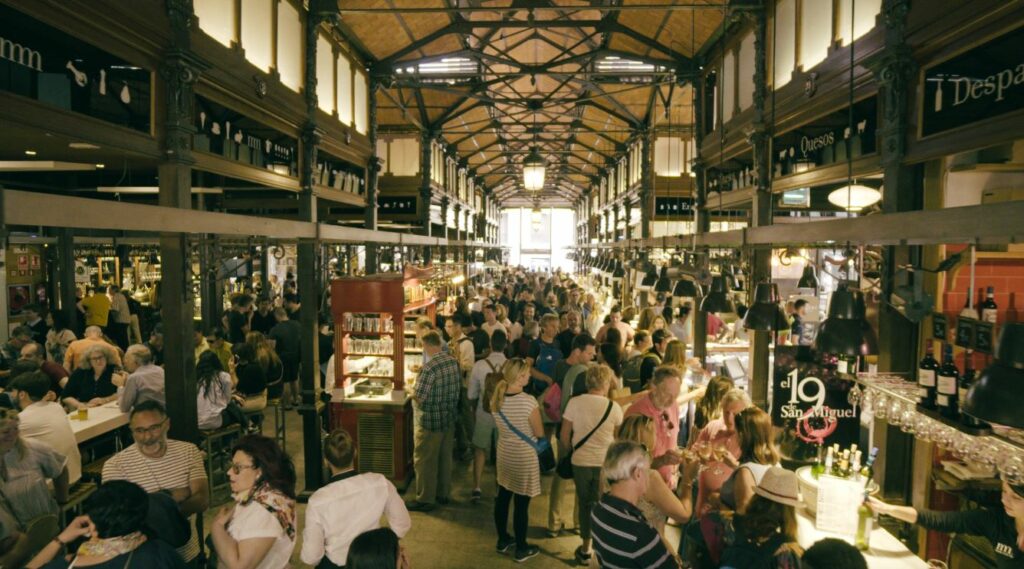 5.   Thyssen-Bornemisza Museum
The Thyssen-Bornemisza Museum is the third largest in the city.
Located on Madrid's Art Walk, this museum has a large collection of works in a variety of modalities.
Visitors can browse through centuries of art from the 13th century and up.
You can even take an art and wine tour through the museum to experience how art and wine intertwine throughout the history of art in Spain!
Tickets to enter start at €13.
However, it is free to enter the museum on Mondays from noon to 4 p.m.
6.   Santiago Bernabéu Stadium
For football fans, one of the best things to do in Madrid is to visit the Santiago Bernabéu stadium.
Home to one of the world's most successful football clubs, Real Madrid, there's plenty of amazing history to explore at this historic stadium.
With a seating capacity of over 80,000, it is billed as the second-largest stadium in Spain.
During a tour of the stadium, visitors are able to take an in-depth look at the stadium's history.
You can even take a photo with a Champions League trophy!
The stadium is one of the top things to see in Madrid for any die-hard Real Madrid fan.
7.   Estación de Atocha
Estación de Atocha (Atocha Station) is Madrid's main station.
Wondering why a train station is on our list of top things to do in Madrid?
While the station has undergone multiple renovations, an old section of the station is now home to a tropical garden!
The garden itself contains thousands of plants from numerous parts of the world.
It's a great place to escape and enjoy the lushness of a tropical indoor garden.
There are also plenty of cafes and restaurants inside the station if you're craving a bite to eat while admiring the foliage.
Not to mention, the garden itself is free of charge!
8.   Plaza de Toros de Las Ventas
Plaza de Toros de Las Ventas, or Las Ventas Bullring, located in the Salamanca district is an iconic landmark.
The Plaza is composed of a few different sections. These include the bullring itself and a museum dedicated to the history of bullfighting.
Visitors can buy tickets to attend a bullfight or simply tour the arena known for its stunning Moorish design.
The Las Ventas bullring offers audio tours, group tours, and private guided tours.
The venue also offers a realistic experience of what its like in the bullfighting world with a specialized dramatic performance.
9.   El Retiro Park
We're ending our list with this beautiful park located in the heart of the city.
El Retiro Park is a UNESCO world heritage site comprised of stunning gardens and over 15,000 trees!
One tree in particular, known as El Abuelo, is theorized by some to be 400 years old.
El Retiro is an excellent place to wander down wide-open avenues, enjoy the many rose gardens, and admire the stunning statues scattered throughout the park.
While there, stop by the stunning Palacio de Cristal (glass palace).
Free to enter, this glass conservatory with ceramic tile flooring is surrounded by a gathering of stunning trees.
22 meters high, this stunning crystal structure resembles a glass bird cage.
This sprawling park has four separate entrances for visitors.
The main entry gates are:
Calle de Alcalá
Plaza de la Independencia
Calle O'Donell
Calle de Alfonso XII
Whether you're looking to snap a few photos or simply admire the gorgeous surroundings, El Retiro Park is a Madrid must see for travelers looking to relax after a day of sightseeing.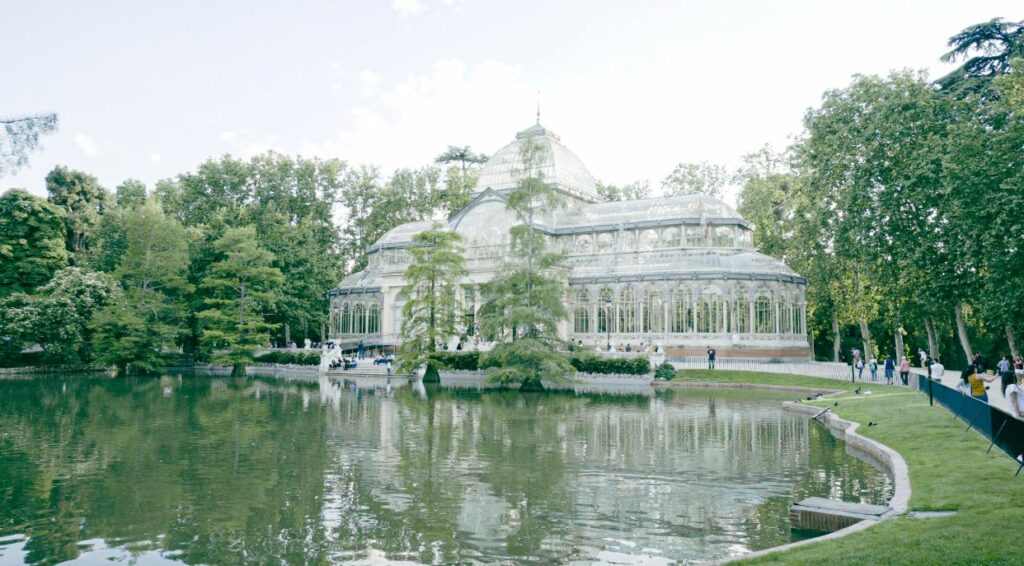 A Sweet Bonus in Madrid
For travelers with a sweet tooth, the Sweet Space Museum provides a fun, interactive experience different from a traditional museum visit.
Located in a shopping mall, the space is filled with innovative art and 10 different themed rooms to enjoy.
From taste-testing in an ice cream lab to lollipop waterfalls, Sweet Space is a great place to visit if you're traveling with kids.
Places to Go and Things to Do in Madrid
From food tours to royal palaces, the list of things to do in Madrid doesn't seem to run out!
This impressive city is not one to be missed.
It's no wonder Madrid has become such a vibrant hub for travelers worldwide.
With plenty of historic sites and modern neighborhoods to peruse, you'll be sure to enjoy your time in Spain no matter what you include on your itinerary.
We hope the nine experiences above provide a good start when building your Madrid must-see wish list.