Part of the excitement of studying in Madrid is getting to experience a new way of life. And part of that way of life is being able to rent a house in Madrid.
It'll be a place to experience independent living, a place to share great times with friends, and a home-from-home when you're away from your own.
How to Find Madrid Apartments For Rent 
Some universities offer student accommodation called, "colegios mayores".
But you may want to carve out a place for yourself in the "real world" by renting a house in Madrid.
You may have an independent spirit and can't wait to practice your language skills.
If so, looking for an apartment to rent in Madrid either privately or through a real estate agent will be an exciting experience.
We also understand that, for some people, house hunting in a new country can be a bit overwhelming.
But don't worry, Go! Go! España is here to help with our accommodation finder that will give you all the support you need.
Where is the best place to rent a house in Madrid?
Madrid is a vibrant and attractive city.
And there are many wonderful neighborhoods where you can rent a house in Madrid.
Many of these areas might suit a person looking to study or work in Madrid.
The best place to rent a house in Madrid depends on your requirements and personality.
So here are a few things to consider:
Is the Location of the Apartment Convenient?
You may not want to live on campus but you should ask yourself: is the house or apartment close enough to my university or place of work?
There's nothing worse than having to struggle to get to class on time.
Neither do you want to spend too much time traveling home after class – that time could be spent doing much nicer things.
What's the Area Like Near My Apartment in Madrid?
Different areas of any city have a different feel which may or may not suit your personality or values.
It's good to get to know these areas before committing to renting an apartment or house in that particular area of Madrid.
Do you think the vibrant nightlife of the Malasaña neighborhood would suit you?
Perhaps you'd prefer the more historic surrounding of La Latina?
Or perhaps the more cosmopolitan area of Lavapiés would be your perfect match?
Whether you find pleasure in the bright lights of bars or prefer a quieter life, it's always good to research the surroundings of your accommodation before you sign a contract.
Is Transport Near My Rented Accommodation in Madrid Convenient?
Even if you live very near your place of study or work, you'll need transport.
It may be that if you live near your university you can walk to most places, but what if you need to get out and about?
Are there cycle routes, bus routes or reliable taxi services near your rental property?
If you have a car, is there a convenient place to park at your apartment? If you have a bicycle will there be a secure place to leave it?
Whether you're planning to immerse yourself in the local nightlife, get a part-time job, or if your accommodation is some distance from your university, you'll need to think about transport, especially at night.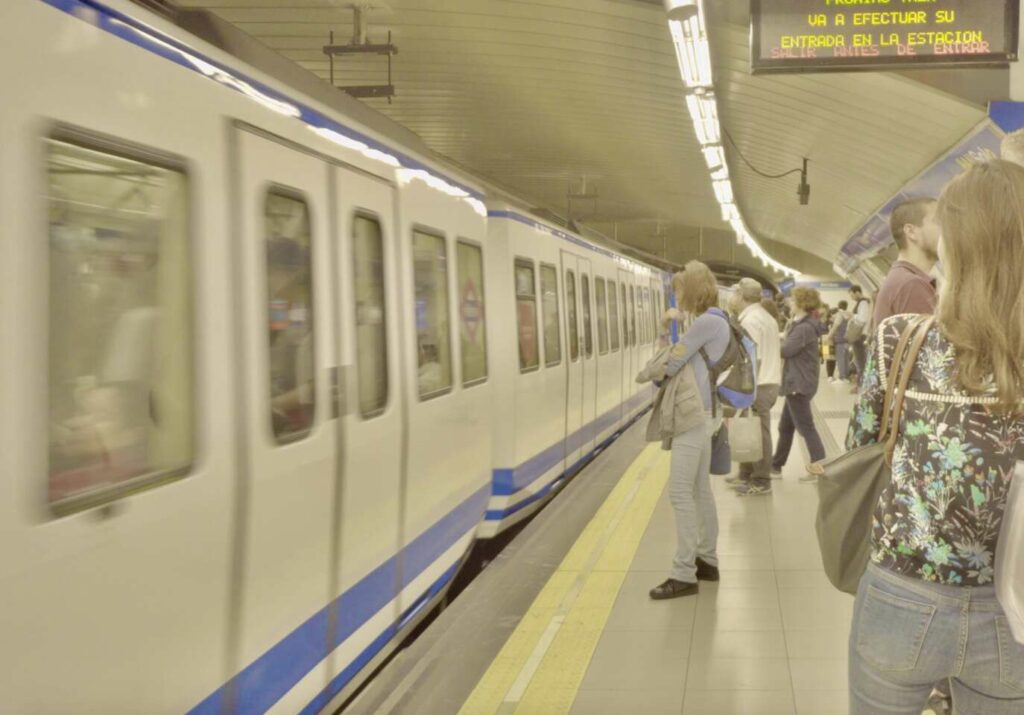 The center of Madrid, the Sol neighborhood, is the place to look for accommodation with the best access to transport.
But it's also the most expensive and accommodation is quickly snapped up.
Wherever you decide to rent a house in Madrid, checking out routes and services beforehand will save you a lot of time.
Does the Cost of Renting a House in Madrid match my budget?
You want your time in Madrid to be a comfortable one so that you can concentrate on your studies or work and enjoy all the delights the city has to offer.
You don't want to be worrying about how you are going to pay the bills.
Double check the cost of your apartment or house comes inside your budget.
And don't forget that you must also consider the extra cost of utilities – roughly 150€-200€ depending on usage.
Check for hidden costs when you rent a house in Madrid, such as rent management fees.
If your landlord is a legal person they cannot pass on the rent management fee to tenants without their agreement.
This is laid down in the Urban Rents Law.
If the landlord is a limited company they may expect a tenant to cover the rent management fees.
For more clarity, you may need to consult your estate agent or Spanish property lawyer for current legal advice.
The easiest way to avoid being stung by hidden costs is to check over and understand your rental agreement in full, before you sign.
Make sure you are clear on what costs will come under your responsibility.
Types of Apartments for Rent In Madrid
Like any other city, Madrid offers a huge variety of rental options.
And your choice of rental flat and apartment will only be limited by your budget.
But let's look at a few typical Madrid apartments for rent.
This way, you can get an idea of what's available and what style might suit you.

What Kind of Features Can I Expect in a Budget Madrid Apartment?
A studio flat to rent in Madrid that's currently available has an asking price of 450€, roughly $436, monthly.
What features does this Madrid apartment have?
Location: The studio flat is based in the Argüelles area.
It's a popular location for students as it's quite near the center of the city.
Access: It has good access to transport lines including the metro.
It also has some relaxing cafés and bakeries and low-key nightlife nearby so you won't be disturbed.
Size: The flat is built on an L-shape with a 30m2 floor area.
Although this seems quite small, the kitchen and bathroom are separated from the living area for a greater degree of separation and hygiene.
Décor: the apartment comes furnished with a single bed, chest of drawers, wardrobe and dining table which can double as a place to study.
Amenities: The bathroom has a walk-in shower and is clean and modern.
The Kitchen has a stove, microwave, toaster, sink and washing machine. The apartment is also air-conditioned.
In general, it is clean and functional and would offer a single person a comfortable place to stay.
It would not be the most suitable place to entertain too many guests.
But as the local area offers a range of places to eat and drink, this may not be an issue.
What Kind of Features Can I Expect in a Luxury Madrid Apartment?
Luxury apartments to rent in Madrid don't differ from many other European cities. You get what you pay for after all.
A luxury penthouse apartment in the Huertas–Cortes area of Madrid is currently for rent at 15,000€ per month.
What features does this type of apartment have?
Location: The Cortes, known as Huertas, neighborhood of Madrid is a prestigious and central area of the city.
It's a district favored by young professionals.
Access: Being central, access to transport won't be an issue.
But this apartment has an optional garage space outside if you planned on buying or hiring a car.
Size: With an internal square meterage of 270 and an additional 70m2 of outside space, you'd have plenty of room.
Décor: You'd be delighted with the designer furnishings that come with this rental property.
It's modern and chic and a perfect pied à terre for those with a taste for the finer things in life.
Amenities: It's got everything you could expect from a luxury apartment, including a lift to a private entrance, wine cellar and library.
Two outside spaces including a terrace with stunning views.
The main bedroom includes a fireplace and freestanding bathtub integral to the design.
Not all students have to count every penny.
And this kind of luxury apartment for rent in Madrid shows you that if money isn't an object, you can live in the lap of luxury.
Who can help me find Madrid Apartments for Rent?
The easiest way to rent a house in Madrid is to find one online.
There are quite a few websites that can help you a house or apartment to rent in Madrid.

The most well know website for house or flat rentals is Idealista.
They will show any available properties for rent in Madrid ranging from a low to mid-range monthly rate.
For luxury apartments in Madrid, you might prefer Aproperties real estate agents.
Their monthly rates range from medium to very high.
If you're looking to rent a house in Madrid with other people Pisa Compartido will be a good fit.
It offers you the option of renting a room in a shared house for a very economical price.
You can find local apartments to rent in Madrid once you're already in the city.
Look up house listings in local papers or in university or work accommodation information centers.
And don't forget, Go! Go! España's accommodation finder.
What Else Do I Need to Know About Renting A House In Madrid?
Whether you're dealing with a real estate agent or a private landlord, there are some key questions to ask before you sign your rental agreement:
1. Is the accommodation furnished or unfurnished?
If you plan on staying in Madrid for a shorter period, you may not want the expense or inconvenience of sourcing your own furniture.
Ask if the flat, room or house, is furnished or not.
2. Who else will be living in the flat, house, or building?
Flat shares are a great way to meet new people but you need to feel safe in your environment.
Make sure you know exactly the genders and ages of the people who will be sharing your home.
Meet prospective hosts or flatmates beforehand if possible either in person or on a video call.
3. What extra costs will the Madrid estate agent be taking?
Using an estate agent to broker a flat to rent a house in Madrid may be the easier option but they will charge you for their service.
Make sure you know what those costs are.
If they sound too steep see if you can find an apartment for rent directly through a private landlord as it will probably be cheaper.
4. What is the full cost of renting this house in Madrid?
Ask if utilities, maintenance costs, or any other bills are included.
Also, check to see how much the deposit is and how long the rental contract is for.
Some student accommodation rents out your room during vacation times so check this, too.
5. Where in the building will my room or flat be?
You may be given an internal or external room or flat. Internal accommodation may have less light than external apartments.
If you have access requirements check if there is a lift facility or if you have ground-floor accommodation.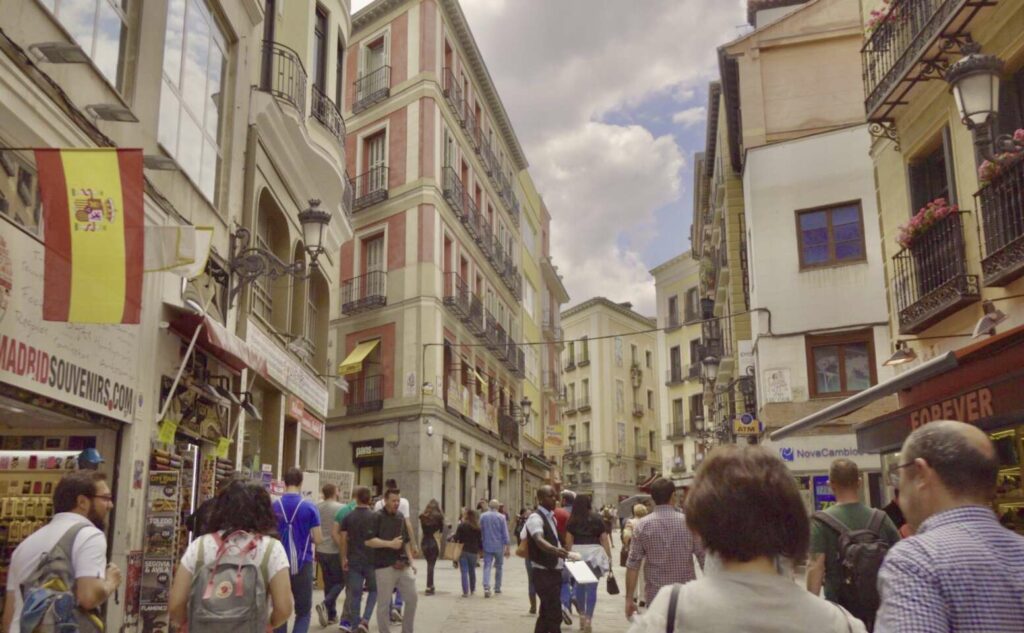 What Benefits Do I Get When I Rent a house in Madrid?
Compared to more northern European cities like London or Berlin, Madrid is in no way an inferior choice.
While the wages may be slightly lower, the rental costs, utilities, public transport, and the cost of living is also much lower in Spain.
And don't forget the sun.
In Madrid, you're guaranteed consistently higher temperatures than both Berlin and London throughout the year.
Not only will you be able to learn or perfect your Spanish but you'll have easy access to travel to other Mediterranean countries.
You can study and work in Spain and travel to Portugal, France, and Italy.
You could even sail across to North Africa for a short break much more quickly than from northern Europe.
Madrid is a wonderful place to study and live. And whatever your accommodation needs, we're sure you'll be able to rent a house in Madrid that will suit you perfectly.
If you'd like more information on student accommodation our article should help.
And if you need to find work while studying in Madrid on a student visa, then this article will give you some guidelines.