As Julia Child famously said, "People who love to eat are always the best people." They're also often the people who love exploring Spain! All over the country, you'll find fantastic foodie hotspots. One of the very best places in just about any Spanish city to experience the local food culture is at the nearest food market. We've got a collection of the top Spanish food markets from all around Spain.
Some of them offer fresh ingredients so you can try your hand at cooking up local specialties. Others feature food stands as well as traditional market stalls, which means you can taste what expert chefs can create with these ingredients. Either way, Spanish food markets give you a glimpse into Spain's well-rooted food culture.
¡Buen provecho!  
The Best Spanish Food Markets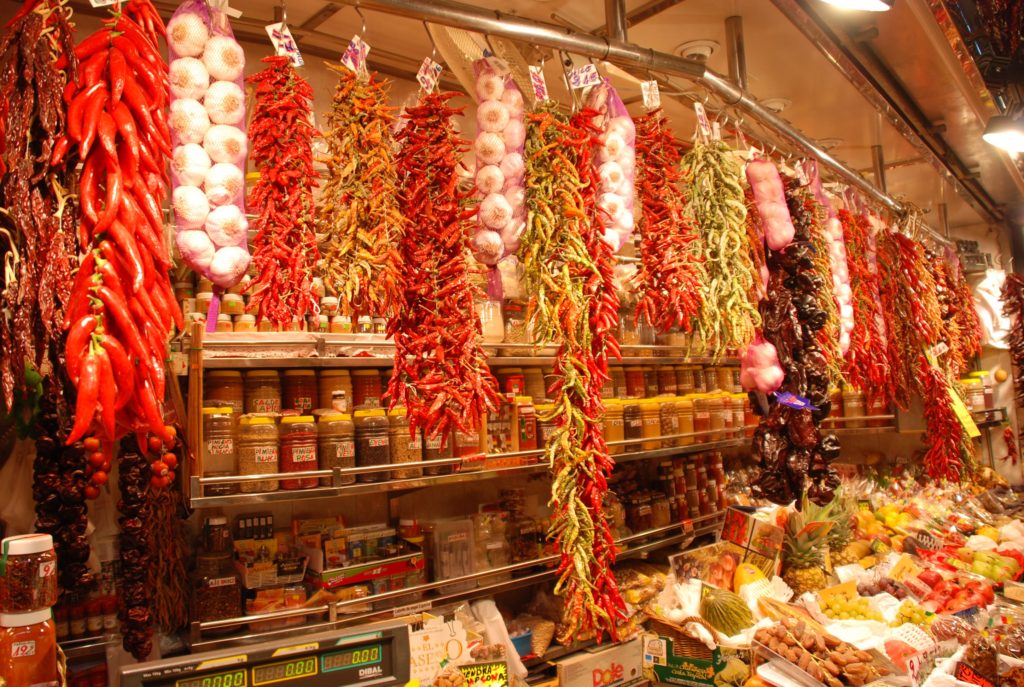 One of Barcelona's most famous attractions, La Boqueria includes a mix of traditional market stalls alongside stalls with bars and restaurants. Its location right on Las Ramblas means it receives a steady flow of visitors year-round, eager to get a bite to eat of its famous food. Make a stop here and see if you can resist the deliciousness!
Mercat de Santa Caterina (Barcelona)
You'll find the Santa Caterina market in the trendy Born district of Barcelona. It stands out instantly for its bright, undulating roof inspired by Gaudí's architecture. Inside, you'll find a mix of both food stalls and a handful of sit-down restaurants, making it a hit with both locals and visitors alike.
Mercado de la Ribera (Bilbao)
You'll find this pretty market right next to the river in Bilbao. It's well-known all over the Basque Country for its excellent selection of ingredients. Pop in for a browse at the over 60 market stalls.  Fun fact: this wins it the title for the biggest covered market in all of Europe! The city recently refurbished it to give it a breath of fresh air.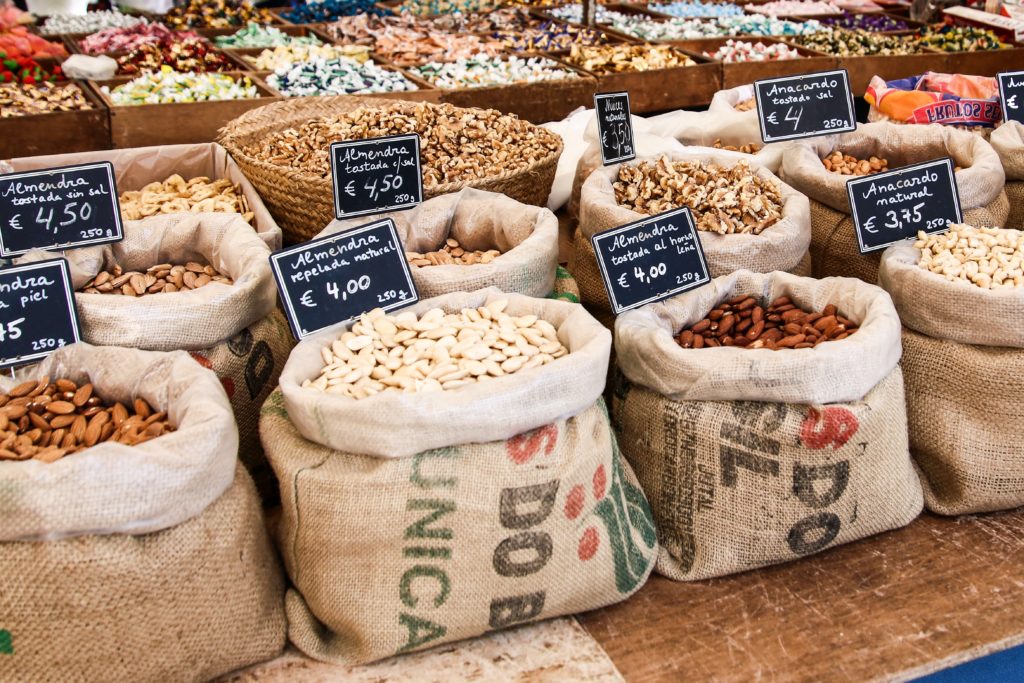 Mercado Central (Cádiz)
This market re-opened a few years ago after an extensive remodel, and it looks better than ever. Did you know that its roots go back to 1838? Today, you'll find outdoor and indoor stalls, and an excellent selection of fish.
More interested in eating than cooking? Than the Mercado de San Miguel in Madrid is the one for you. This market features upscale food stalls instead of market stalls. It's a big hit with madrileños for a fun night of tapas stall hopping. Even better, its central location right next to the Plaza Mayor makes it ideal for a bite to eat in the middle of a day of sightseeing.
Mercado Antón Martín (Madrid)
While the San Miguel market is great for eating, locals love to shop at the very traditional Antón Martín market. Shop for a mix of quality, variety, and great prices. Why not pick up the supplies for a picnic, or grab ingredients to try your hand at cooking a classic Spanish meal?
Mercado de Abastos (Santiago de Compostela)
Seafood lover? Then you'll want to make a stop to Santiago de Compostela's Mercado de Abastos. The second most-visited sight in the city, the market's Marisco Manía restaurant serves seafood dishes fresh from the market stalls. Yum!
Mercat Central (Valencia)
Valencia's main market stands out for two reasons: its excellent selection of high-quality food, and its beautiful architecture. Even if you're not hungry, stop by to gaze at the intricate Art Nouveau structure. And, while you're there, you might just see something that whets your appetite.
What's your favorite market you've been to? Let us know in the comments!