Spain is a country that has it all. It's got gorgeous coastlines, historic cities, lush mountain ranges, as well as a rich and varied culture.
It's not surprising that so many people choose to relocate to Spain for work or study.
But not everyone's budget is as overflowing as the landscape. So, if you've been wondering, "what is the cheapest city to live in Spain?" – we're here for you!
There are a number of factors to consider about what makes a city cheap to live in.
Rental prices, cost of living, utility prices, transport costs, and restaurant prices are things that you'd need to think about when picking affordable Spanish cities to live in.
But to directly answer the question:
What is the Cheapest City to Live in Spain?
Our answer is: it's generally agreed that Murcia, near Alicante, is the cheapest city on the Spanish mainland to live in.
And if you're a student interested in spending time in Spain to top up your studies, you're in for a treat.
Murcia is a university city in south-eastern Spain. So it is a perfect destination for international students.
The whole city is geared around students' needs.
And because young people make up a large part of the population of the city, you'll find it a vibrant atmosphere with loads of like-minded people to meet.
What Makes Murcia the Cheapest City in Spain to Live In?
Let's get down to what makes Murcia such great value for money.
Murcia isn't only one of the most affordable cities to live in Spain, it's one of the most affordable on the whole Mediterranean coast.
Finding reasonable accommodation in Spain is always essential for keeping costs down. And Murcia offers really cheap places to stay in Spain.
A two-bedroomed city centre apartment costs an average of 600 – 670 € per month– including utilities.
Monthly groceries average about 100 € with transport costly roughly 45€ per month.
And even if you add on additional shopping, entertainment, restaurant costs, insurance and medical cover, you're looking at a truly affordable lifestyle.
So we've totaled this to an average monthly cost of living of 800 – 1000 €. This makes it about a third of the cost of living in Madrid or Barcelona.
And for most students, sharing these costs makes it an even more affordable location.
That means you'll get more cash in your wallet at the end of the month to spend on the fun things in life during your stay!
So if you were wondering, "Where is the cheapest place to stay in Spain?" We think Murcia is our best answer.
But for other affordable cities in Spain, we've got a few honorable mentions.
What other Spanish Cities Are Affordable?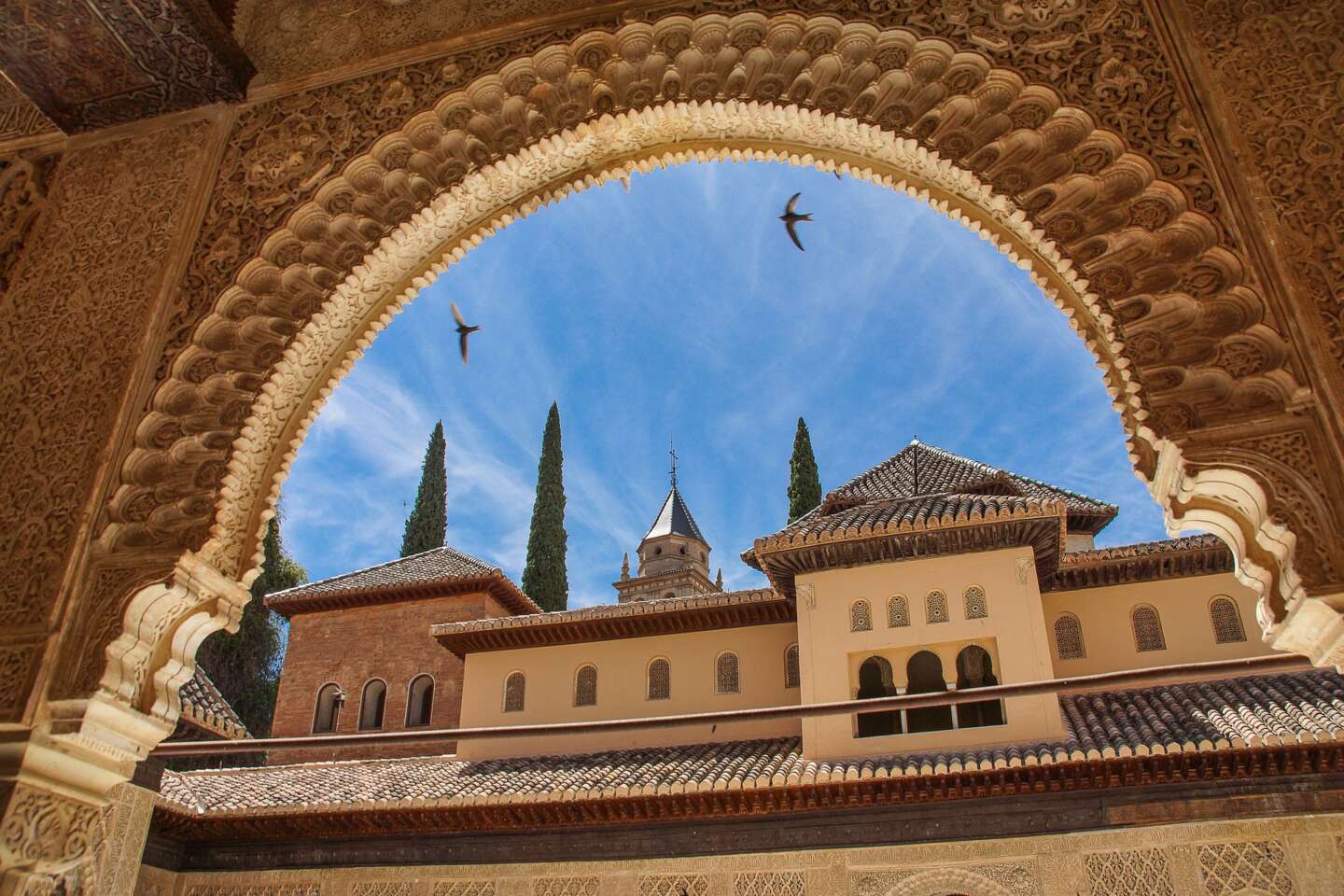 So, where is the cheapest place to stay in Spain other than Murcia?
You'll be delighted to find out you've got a great selection of affordable cities to live in Spain.
And Murcia is closely followed by:
Granada
If smaller cities are more your thing but you still like to keep costs low, Granada would be a great city to live in.
It's a mountainous region that's only an hour from the coast.
And with an average cost of living between 800- 1,000 € per month, it rivals Murcia for being super cheap!
Valencia
The birthplace of paella won't just attract foodies. It's got an estimated monthly cost of living of around 900 €.
This is pretty cheap considering it's Spain's third-largest city.
Seville
If you like it hot, Sevilla is the place to go. And their short winters also keep your heating bills on the down low!
Its average monthly cost of living is around 900€, so it's an affordable city to stay in.
Wherever you choose to live in Spain we know you'll have a great time.
But if you need help finding the perfect accommodation for your stay, we can help!
Check out our accommodation finder, to get yourself a perfect place to stay in Spain.
And if you'd like to know more about the cost of living in Spain, read all about it here.