The city of Seville is arguably one of Spain's most beautiful areas.
It is the capital city of the autonomous community of Andalucía.
Known for its incredible mudéjar style architecture and expressive Flamenco dancing, Seville is a city with an unrivaled ambiance.
If you're looking for things to do in Seville, you won't have to look very hard.
From ancient mineral baths to historic tapas bars, Seville has it all.
Whether you're looking to spend a little or treat yourself, we've gathered a wide variety of Seville attractions.
Best Things to Do in Seville
Not sure where to begin? We'll help get you started with our list of the 9 best things to do in Seville.
1.   Real Alcázar
The Real Alcázar of Seville is a royal palace now deemed a UNECSO World Heritage Site.
The Royal Alcázar compound was originally founded in the Middle Ages. Today, the royal family still uses parts of the palace as their residence.
Many people travel far and wide to visit this historic site. Real Alcázar is a must-see destination for a reason.
From stunning tile-covered rooms to lush gardens that were cultivated over a thousand years ago, a whole host of different inspirations abound for visitors to explore.
The gardens themselves are a marvel.
From Islamic landscapes to Renaissance influences, there are over 20,000 different plants to marvel at.
Not to mention, the palace itself is luxuriously decorated and is a sight to behold.
There's a reason we're starting our list of places to visit in Seville with the Real Alcázar.
General admission is only €13.50 to the ground floor of this amazing Seville must see location.
2.   Plaza de España
The Plaza de España may not have history dating back to the Middle Ages, but it is undoubtedly a spectacular sight to behold.
We couldn't get away without naming this famous square on our list of things to see in Seville.
The plaza is an iconic landmark located in the Parque de María Luisa (which also provides a great spot to wander!)
Consisting of 50,000 square meters, the plaza is dotted with fountains and Venetian-style bridges.
It was built in 1928 and has a mix of different architectural styles such Neo-Mudéjar.
This type of architecture is known for using soft materials and decorative patterns, and is abundant throughout the capital of Seville.
Admire the gorgeous architecture by taking a stroll through the plaza, or hop on a boat ride to admire the Plaza from the canals that weave through it.
There's no entrance fee to the Plaza de España.
Visitors can admire this beautiful area of Seville free of charge.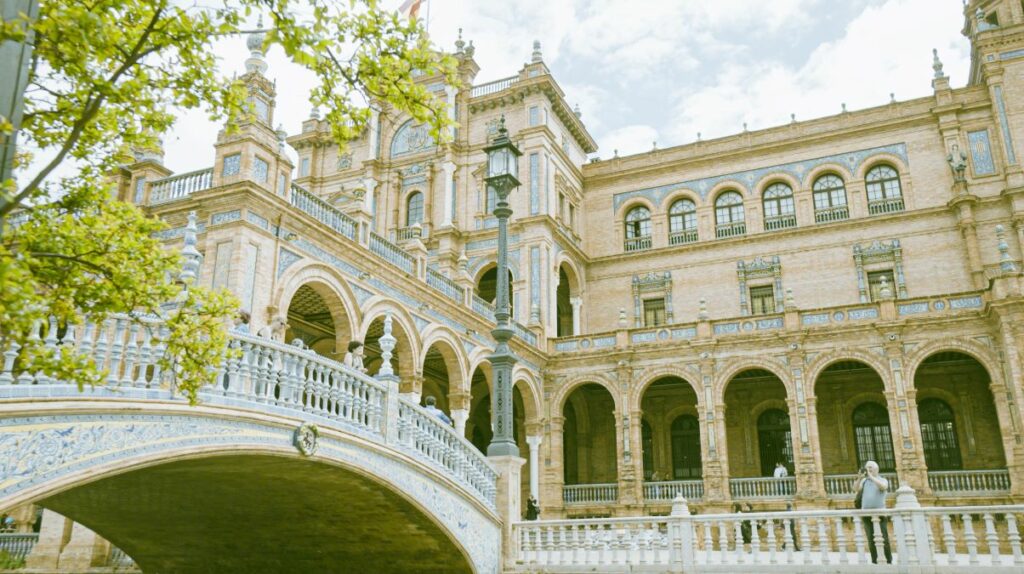 3.   Mercado de Triana
After soaking up the views of Seville from on top of the Parasol, head down to the Mercado de Triana.
This indoor market houses a variety of vendors selling different foods and handmade crafts.
After getting your fill of fresh tapas, head underneath the Mercado de Triana to explore the Castillo de San Jorge.
This medieval fortress used to be a headquarters during the Spanish Inquisition.
Today, it is a museum located under the market, and is open for visitors.
The underground ruins provide an account of what happened during the Spanish Inquisition.
4.   AIRE Ancient Baths
Located in the Santa Cruz barrio of Seville is a Mudéjar-style palace with ancient bath rooms.
These Baños Árabes offer a unique way to relax after a day of exploring.
Choose from a variety of experiences such as a Himalayan salt ritual, or a thermal bath followed by a relaxing message.
There is a wide variety of experiences to choose from, all housed in a historic palace.
Featured experiences range in price but expect to pay no less than €95 per person.
5.   Flamenco Performances
For the third item on our list of top things to do in Seville, we certainly don't mean give a flamenco performance!
Rather, check out a flamenco performance in the area where this style of dance originated.
Or, if you're feeling brave, take a flamenco class!
Flamenco dance is an essential part of southern Spanish heritage.
The dance style has roots from areas around the world including India, Arabia, and Spain.
The dance is characterized by intricate steps and percussive castanets.
Plenty of areas in Seville offer an opportunity to catch a performance.
However, the Flamenco Dance Museum is a great place to start.
There, you can take a peek at the history of the dance, as well as watch a live show!
Ticket prices will vary, but a live show at the museum will cost around €25.00 for adults.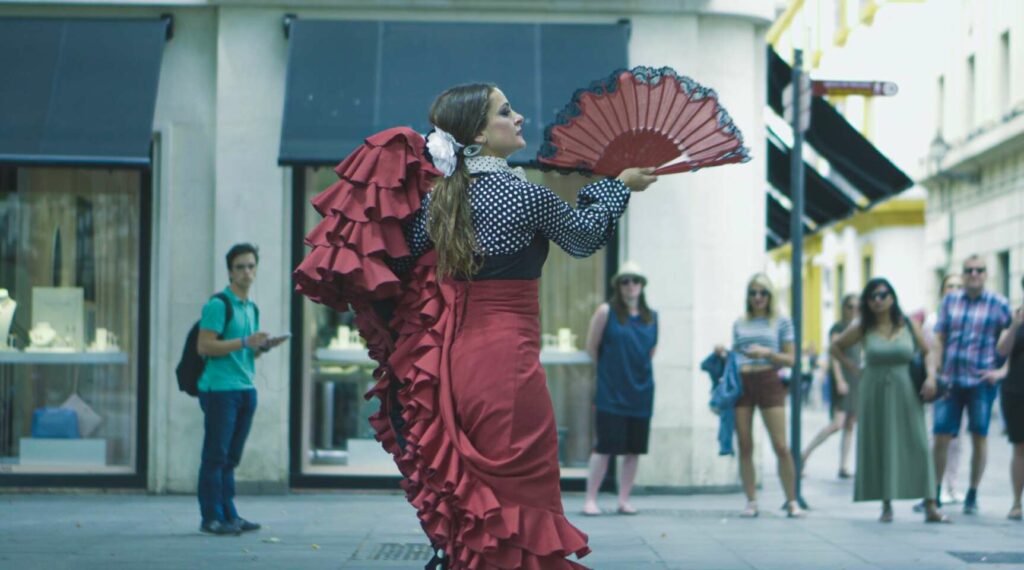 6.   Enjoy Some Tapas
We'd be remiss not to mention tapas on our list of things to do in Seville Spain.
There are thousands of tapas bars scattered throughout the streets of Seville.
One particular Seville institution, El Rinconcillo, is an iconic destination for many.
The oldest bar in the city, El Rinconcillo has been around since 1670!
Casa Ricardo is another excellent tapas bar located near the La Alameda district.
Opened in 1898, it's currently nestled in one of the trendiest districts in the city.
You're not likely to go wrong with any of the tapas bars you choose.
They all offer an excellent selection of delicious favorites.
Dig in on common favorites such as carrilladas or solomillo al whisky.
Or, you can't go wrong with a classic of Jamón Ibérico and Manchego cheese.
7.   Museo de Bellas Artes
A visit to a museum is a must-add to the list of Seville tourist attractions.
The Museo de Bellas Artes is a fine arts museum and is one of Spain's most prestigious art museums.
The museum was first opened in 1839, but the building was constructed in 1594!
Since its opening, it has contained collections of work from Spanish artists ranging from the Middle Ages all the way up to the 20th century.
It's located in the Plaza del Museo, and tickets are affordable at only €1.50 per person.
However, if you're a member of the European Union, admission is free!
8.   Metropol Parasol
Yet another astonishing piece of architecture in the city of Seville is the Metropol Parasol.
Locally, this structure is known as Las Setas de la Encarnación (Incarnation's Mushrooms).
There are multiple levels (five to be exact) to the structure located in the La Encarnación square of Seville's old quarter. It measures about 29 meters at its highest point.
Inside are a variety of restaurants, bars, an archaeological museum, and an impressive panoramic view of Seville up top!
The central area provides a great space to lounge, throw an event, or simply enjoy some tapas under the shining sun.
The structure itself is known as the largest wooden structure in the world.
Worth a visit during your time in Seville, the Metropol Parasol costs only €5 to enter.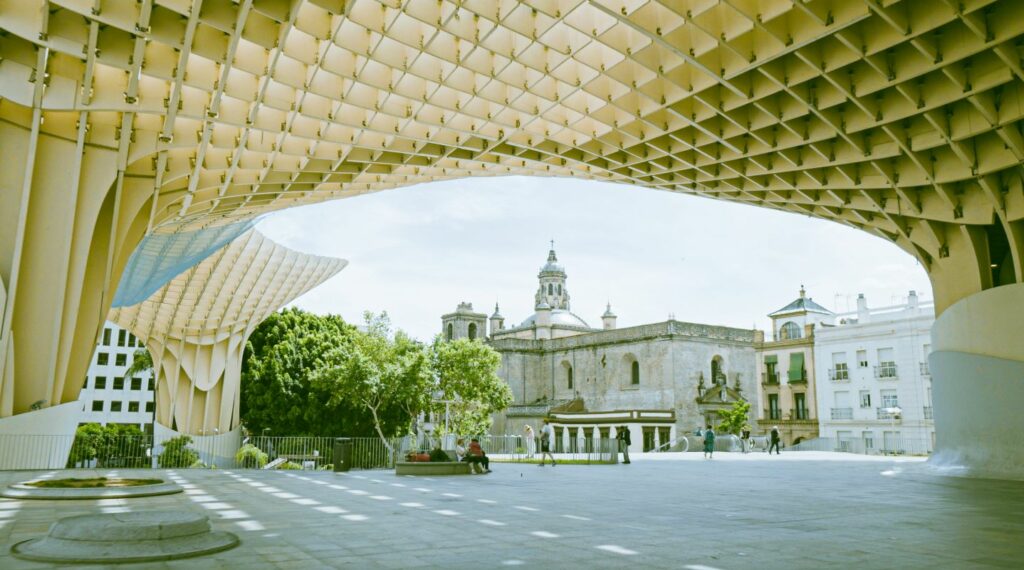 9.   Church of Santa Maria la Blanca
Last on our list is a beautiful Seville sightseeing stop: The Church of Santa María la Blanca.
This is the only church in the city that has vestiges of three different religions.
Consecrated as a Christian temple in the 14th century, it was first a mosque, as well as a synagogue.
What's special about the location is the interior.
The entire surface of the interior is lavishly adorned with various geometric motifs, angels, murals, cherubs, and more.
A stunning sight to see, this is one of the great Seville attractions for those interested in Andalusian Baroque style architecture.
Open from Tuesday through Friday, this church is a stunning Seville must see during your time in the city.
An entry fee to the church is a suggested €2 donation.
Ready to Check Off Your Own List of Things to Do in Seville?
No need to go searching online for phrases like 'Seville what to do'.
We hope this list has inspired you to make the most of your time in Seville!
Peruse through plazas and admire historic architecture like true sevillanos.
Whatever you decide to check off your list, you're sure to enjoy your time in this southern Andalusian city.