So you found a few English speaking universities in Spain, figured out what you need to do for your visa, but you can't decide which one to attend. Why not visit them to get a better idea?
In this guide, we aim to provide you with all the basics you should consider when visiting a university in Spain.
Planning out your trip
You should begin by making a clear plan of which universities you want to visit and how long you want to spend in each place. We recommend looking at 3 to 5 universities at a time, since more than this can be intimidating.
For each university, you should look to spend about 2 days in the area. One day should be spent visiting the university itself, and one day should be spent visiting the local area to get a better idea of the lay of the land.
The night in between can be used to see how the nightlife is. This is important, as you don't want to move somewhere that is too loud at night, or doesn't meet your expectations for what student life will be like.
Flying out from the UK
The easiest way to reach Spain from the UK is by plane.
For this, you probably want to fly with Ryanair, Easyjet, or other budget carriers (Iberia Express is also a good choice).
If you are flying from London, you can get a flight with Ryanair from Stansted, or fly with Iberia Express from Gatwick.
Another great way to save money flying from London Stansted, is to use the Stansted Airport parking.
You can often find great deals for parking at Stansted airport, and if you are only visiting Spain for a week, you can expect the prices to be competitive compared to taking a taxi or public transport to the airport.
Accommodation in Spain
Depending on where you are looking at universities, it can be a challenge to find accommodation in Spain.
Airbnb is likely to be a great resource in this case. This is for two reasons.
The first reason is that Airbnb often provides accommodation in more 'studenty' areas. This means that you will be able to get an idea of what the student life is like in the area.
Whether you are interested in the nightlife, or more in the cultural side of things, Airbnb provides an excellent opportunity to get into the middle of it.
The second reason is that if you stay in a room that is attached to an apartment you will have the opportunity to meet some locals more easily.
This can help you in gauging the local culture and its friendliness towards British students. It's also a great way to get a head start on learning some Spanish.
Transport in Spain
Even if you are looking for university courses in English in Spain, it is important to learn how to get around in Spain, with or without Spanish
Luckily, the train systems in Spain are generally quite reliable, extensive, and easy to understand with even basic Spanish.
Taking public transport to travel will mean that you know what to expect when you move to Spain for university.
This will give you a head start in self-confidence traveling around the country, and in proving to yourself that you can do it.
Another option would be to rent a car. In this case, it is much easier if you are over 25, as many car rental companies don't provide options for younger people to rent vehicles.
Alternatively, traveling with a parent or guardian can mitigate this issue.
Making your choice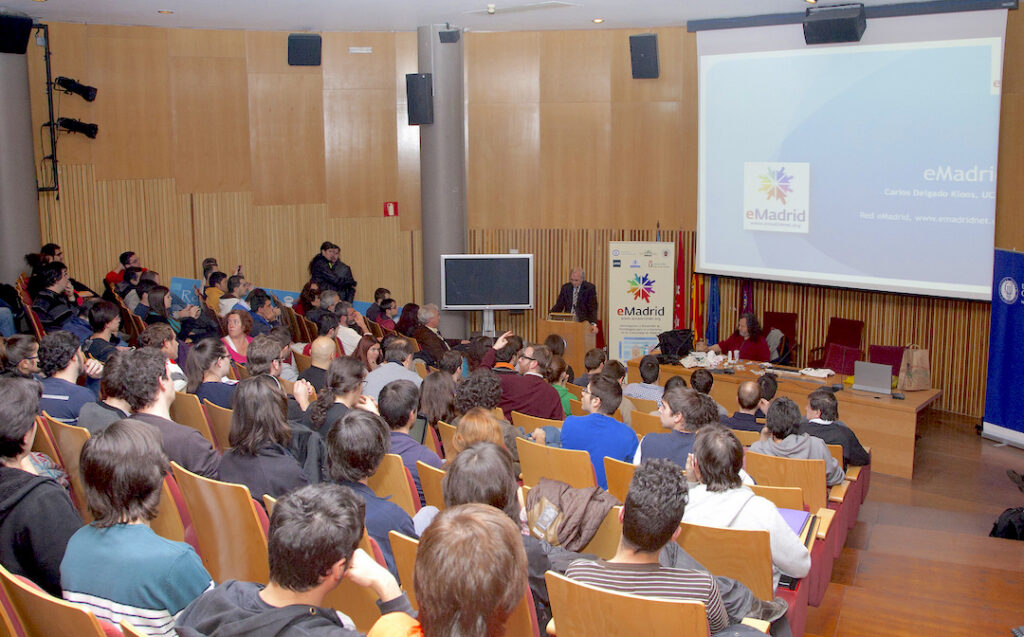 ©Photo by Universidad Carlos III de Madrid
Hopefully, this article has helped you in deciding what university you want to study at in Spain.
Finding an English speaking university in Spain has become steadily easier over the years, as Spanish universities have become better-known and offer more English courses than ever before.
At the end of the day, finding an English university in Spain is still a challenge, and making the decision to move there to study is a tough one.
However, this adventure is one well worth exploring, and will give you a unique perspective for the future.